A collaborative project together with Prof. Adina Hempel (Zayed University, UAE) and Prof. Zlatan Filipovic (American University of Sharjah, UAE) highlighting the development – the evolution – of the majlis in the United Arab Emirates.

The majlis is an important social practice in the Arabian Peninsula bringing together the community and its leaders. From a humble place of sitting to a dedicated room within a private residence or an official building, the majlis – or mejles as it's referred to in the UAE – is also a place for knowledge exchange and learning.
While the traditional majlis needs nothing more than a mat or a protective structure made from either goat hair or palm leaves, the rapid growth of the UAE from 1960s onwards emphasized the role of the majlis as a support system for decision making. The majalis often welcomed not only residents but also various foreign experts, engineers, merchants, and politicians resulting in the majlis space shifting in size and décor. More recently the role of the majlis further expanded to becoming a space for cultural, intellectual, and social forum.
An iconic u-shaped seating arrangement with mattresses and pillows in traditional pattern can be seen as a symbol for the tradition described above and can be found all around the UAE. The pattern of the woven fabrics refer to repeating motives from bedouin culture, like for example snake tracks in the sand, palm leaves, or camel teeth . Individual tribes and communities developed their individual interpretations of such motives. Below are three different pattern examples that were found at a local market in Dubai in March 2022.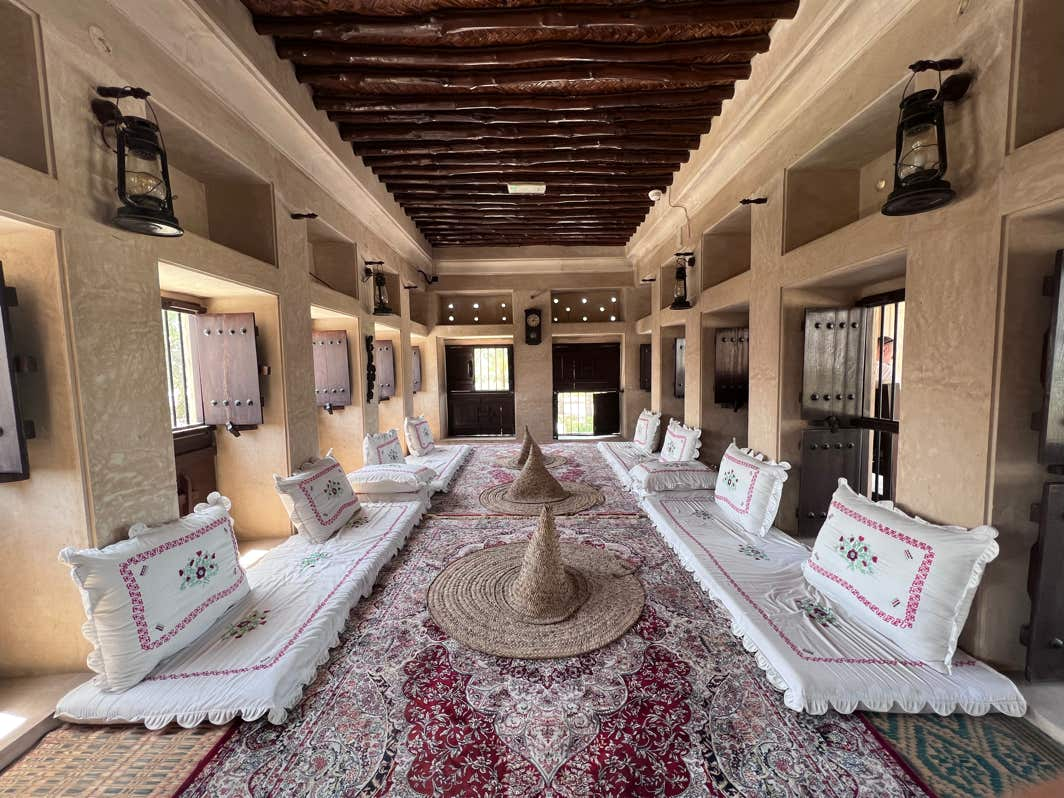 Beside general research on the topic, the team documented multiple mejles through detailed series of photographs, videos, 3D-scans and interviews. In the below example the majlis Ghorfat Umm Al Sheif (Dubai, 1955) can be seen. Surrounded by lush palm trees this place served
as summer gathering space of the late Sheikh Rashid bin Saeed al Maktoum.
The teams findings can be divided into three significant periods:
the traditional majlis prior to 1960,

the modern-day majlis between the 1960s to 90s,

the current contemporary majlis since 1990s.
A selected summary of those three periods got displayed in form of a wall graphic at the Smithsonian Folklife Festival 2022, and through an augmented reality application that acted as a show-case to feature dedicated aspects of the featured majlis.